Preface

On April 15th, 2020, along with my co-teacher artist Chido Johnson, I had planned to spend the day with thirteen graduating student-artists from the Fine Arts Department at the College for the Creative Studies (CCS) installing the Senior thesis exhibition at 333 Midland. Having first met these student-artists when I came to CCS as a guest lecturer in the Fall of 2019, I was impressed by the breadth of practices witnessed in their class presentations and was excited to join Johnson as a visiting curator/professor for the Winter 2020 semester in the Senior Project class. While in previous years the administration welcomed guest curators and critics to organize the student exhibition, this time I was invited in as a co-teacher for the entire Winter semester. The hope was that I would guide them through not only through the typical steps of producing a group exhibition including planning the spatial layout, designing outreach materials, editing artist statements, writing descriptive wall labels, advising on documentation, and more, but, by bringing me in at the start of the semester, then I could have more input in the development of the final artwork than is usually possible.

We had just begun to get into the thick of it together. In late February, after a series of studio visits, I'd met with all the student-artists to review their initial proposals for the exhibition. The plan was that they'd finesse existing or develop new artworks while I was away for a few weeks and submit revised proposals after Spring Break. But, if there's one thing I've learned in my years as a curator, it is that it is best to always have a contingency plan(s). Because, as the saying goes, "the best-laid plans quite often go awry." In this case, the submicroscopic infectious agent known as the novel coronavirus had other plans for us all.

Mid-March I returned from New York City sick with what was likely COVID-19 to a shuttering college, rumors of a stay-at-home order coming, and a scramble underway to move classrooms online across the globe. Since I was ill, Johnson and Fine Arts Chair and artist Valerie Jenkins facilitated discussions with the student-artists about where desire and capacity was for going forward with the exhibition, thesis papers, and final presentations. Several weeks later it was decided that that the exhibition was indefinitely postponed, as were all in-person public gatherings. For the time being, the students would share images of their existing artworks, biographies, and artist statements on an online archive which could be updated later. The hope was that they could potentially continue their work if the studio spaces reopened in the Summer and there might still be an exhibition come Fall or Winter. So, Jenkins and Johnson asked me to write a curatorial essay for the online archive. While I had originally wanted to write individual artwork descriptions versus an overall catalog essay since the artistic practices in the class are so diverse and not unified by a curatorial conceit or theme, after the advent of the global pandemic there certainly was a unifying moment to address beyond simply the culmination of a pedagogical track.

I asked myself what approach to take considering both the magnitude of the broader context and with the essay coming from me specifically. Curators can approach these essays quite differently. Two friends with varying styles came to mind: the first, an art historian, typically uses careful analysis of artworks within the exhibition at hand to build a broader argument; the second, a cultural critic who is just as interested in political theory and philosophy as art, often uses the occasion to write an arcane elliptical history of some social or political process or material that the artist barely engages with. I myself land somewhere in the middle or alongside, often discussing the social context for artworks and highlighting my subjective perspective. For this occasion, I am writing not on completed artworks or an exhibition per se, but the student-artist's ongoing creative processes and how a global crisis has temporarily suspended or even redirected it.

With Johnson having taught Senior Studio for many years as the head of Sculpture, he has been an ongoing fixture in the pedagogical lives of the student-artists. This left me the liberty to take on a role that was more visiting curator than adjunct professor. I understood and articulated this difference to the student-artists in that I would bring my own work as a curator into the classroom more than normal—I hoped that having a clear voice would lay bare the orientation of my perspectives and illustrate it is just one approach of many. I am what some might dub an activist-curator, often making work that aims to intervene in institutional spaces to effect change while siphoning resources elsewhere. While I work very collaboratively with artists and am dedicated to help them develop work that feeds their overall career rather than just a project for a single exhibition, I also emphasize public programs and processes of engagement in communities prior to, during, and after exhibitions. As such, my dedication is to artists, communities, and publics more than audiences and institutions.

Considering this, what follows is not an essay for the anonymous reader visiting the website it resides on. Instead, I've conceived of this text as my final lecture for the student-artists that this moment in the pandemic presents the occasion to give.
Intro

Tone shift: I write this to you.
First, an obvious statement: This is a difficult and uncertain time in which to graduate college, but it also presents an opportunity—to take stock of what it really means to be an artist and how that relates to your personal life force and collective good.

I asked you in our last studio visits on April 23, 2020 to share how the pandemic was effecting you, how you were coping, what time feels like to you right now, and, if you were making artwork at the moment, how this all has changed your practice. I learned so much. Most importantly, I witnessed how you all were experiencing this moment differently, yet all of you have gained valuable lessons about your unique creative practices. The experience of this time has prematurely ruptured the relatively safe bubble of the classroom studio but, with that, you are rising to the messy material reality of the world you make art in as you are compelled to grapple anew with the moral responsibilities of the artist. While many of you are itching to move out of this stage—this perceived purgatory of uncertainty—and back into your studios, I encourage you to listen to yourself and each other in this moment and trust that the experience will feed your future artistic practice. We can (and must) sit in this moment and not rush through, as much as we might hunger for a sense of stability or "normalcy." Because I suspect we are all in this for the long haul, not just a degree of certification.

As such, this moment presents an opportunity. While there are many reasons you might not have the space to do so yet, I invite you to seize this prompt to step back and look at your artwork and existing practice. Perhaps ask yourself: what no longer serves me and what seems essential?

While this time feels unprecedented, art has been created in response to and as a way of living through crisis many times before. We can look to lessons from the past for guidance. With this in mind, I'd like to reflect on what I heard from you and conjure vignettes from several historic artworks to juxtapose against dispatches from the field of contemporary arts at the time of writing. I've chosen these artworks for how they've helped me prioritize my ongoing creative processes and how they might come to bear on the insistent push many have articulated feeling even during global crisis towards non-interrupted productivity. The hope is the vignettes offer us enduring messages about what it means to make meaningful art and maintain a fulfilling creative practice amidst these viral times and beyond.
Dispatches from the Online Classroom

Screen capture of the "Hello, how are you?" online panel on May 7, 2020. CCS students Emily Martin and Ardele Monkkonen were in conversation with co-panelists Mudiwa Masara (Chinhoyi University of Technology-Zimbabwe); Claire Munjoma (National Gallery of Visual Arts-Zimbabwe); Ruth Rubers and Martin Reichmann (University of the Arts Bremen-Germany); and Liu Yalan and Ming Zhi (Guangzhou Academy of the Arts-China).

Descriptive caption: On a black background appears a series of smaller images. On the left-hand side of the screen are five images of stacks of colorful fabric face masks in a wide variety of fabric patterns. In the upper-left corner is an image of a dark-skinned man with a beard wearing a hat amidst a text that reads: "The Gwam Mask Project/In Loving Memory of Gerold "G/Wash" Washington II." On the right side of the screen is the presenter's name, "Ardele Monkkonen," and a vertical stack of images depicting five of the panel's participants siting in their respective homes.
First of all, lest future readers forget, let's take a moment to recognize the impact the explosion of life on Zoom has had on many of us. With the scramble to move classrooms, work meetings, and other forms of sociality online, alongside Instagram Live and Facebook Live, this has become a preferred forum for interaction in the US. But Zoom fatigue, am I right?![1] From "zoom bombing," to the loss of subtle facial cues in encryption and downloading processes, to the fact that we don't normally look at faces that closely for so long, zoom fatigue is no joke. [2] While it can be hard to share small spaces day-in-and-day-out with roommates, partners, or families, I do enjoy the collapse of so-called public and private spheres that comes with seeing people in their homes. Unintended lapses in the veneer of professionalization reveal people's fuller selves.

After we laugh together about the oddness of this form of mediation that we've come together on, we reflect. Some of you are sheltering at home by yourselves, some are in small apartments with large families in Detroit, some of you are in large houses in nearby suburbs, and yet others are marooned outside of the country unable to return from Spring Break. Some of you are busy taking care of your families, others are struggling to find ease as an adult back in your childhood home. Others are by yourself and struggling financially to keep your apartments. Some of you have access to woodshops, painting studios, or sewing equipment, yet others find it hard to eek out a corner of space to yourself. One of you shares that you were sick and suspect it was COVID-19, and others have loved ones who are sick.

Screencap of student via Zoom.
Decriptive caption: A pixelized close-up shows the torso of a person wearing a blue sweatshirt. Two pieces of bread sit on a plate in the foreqround and a light-skinned hand grasps a knife mid-air. In the lower left-hand corner is a symbol of a microphone with a slash through it and the text "Bustin Justin."
Very few of you are making art at the moment. Some of you wonder if you are doing enough. Many of you are eagerly anticipating returning to your studios as you long for the material and spatial play you are familiar with navigating in that space. One of you is planning to look for apartments in upcoming weeks in preparation for graduate school in the Fall, despite ongoing uncertainty whether that will even be possible with ongoing physical distancing.

As daily demands slow down, some of you are finding newfound curiosity and inspiration in materials around your home or out in nature that previously went underappreciated, while others were already using small elements in private domestic space as material. Some of you are deepening your existing daily spiritual and creative practices by mediating, journaling, sewing, latch-working, and/or drawing. Some of you share that you are keeping busy with small creative actions like this to break daily monotony and that the tactility of such work stimulates your bodymind which feels numbed by all the time spent on screens. One of you has rerouted the fabric-sewing techniques you utilize in your creative work to make masks that you mail to loved ones and essential workers, noting that having obligations to support those outside yourself is helping you through this time.

Many of you reflect on what has motivated your artistic practice thus far. One of you raises how this situation highlights ongoing questions about moral responsibilities of an artist to respond to conditions in society. Another one of you shares how you are anxious about not making anything and recognize that you work best with clear structures—it is hard for you to create without an external force posing the occasion to do so. Yet another, a native Detroiter who is outside the US for the first time and is immersed in a natural setting, reflects on how much of your work addresses technology and has a certain industrial-punk aesthetic due to the context of your upbringing. It seems you are all looking inwards to interrogate what motivates you and how that might be expanded as you prepare to leave school.

I am heartened to hear how some of you who were already working on issues that are so pertinent in this moment—mourning, grief, mental health, the cycles of global capitalism—have new questions. They may remain unresolved for the time being, but the investigations promise to deepen your thought over time. For example, one of you who works on representations of madness and domesticity, reflects on how your approach of using a repetitive craft technique as a conduit for personal anxiety feels insufficient to meet the magnitude of the collective affective tenor of the moment. Another, who works on cycles of global capitalism and how they shape human identity and interaction, takes note of how many social media posts circulating are depictions of care work or manual labor, like baking bread or building fences. Yet another, who often utilizes play, whimsy, and chance, notices how small moments of joy are particularly valuable amidst all going on. Questions of how to hold space for that amidst so much trauma resonate strongly.

Screencap via Zoom of work-in-progress by Victoria Demetriou.

Decriptive caption: A vertical image is flanked on the right and left by black. In the center is a view onto a cream bathroom sink that is adorned with a floral mosaic with colors of grey, red, green, blue, yellow, pink and brown. Above the drain is text that reads "WATER ME." The name in the lower right corner of the frame appears to be cut off and reads "ori Demetriou."
Since a good deal of my recent work addresses the construction of time, I take particular note of how this pandemic works against or strengthens the temporal shape of your existing processes of creation. For some of you, it heightens your awareness of how, while the world outside your studio might appear to move in an orderly chronological linear fashion, in your artistic practice time shows itself to be often anything but that.

One of you, who has been living through and making artwork addressing processes of mourning, reflects on the often-contradicting temporal shapes that memorialization in public versus private realms can take. Part of the very material of your work is the time of personal grief, which is now felt on a collective level. You are deep in the process of figuring out how making artwork around something so personal can also help others who will, considering the natural cycles of life and death, inevitably go through similar processes. After you share the titles for your new artworks which are based on the names of the months of the Western calendar, we discuss the Kubler-Ross model of grief and how this relates to a repeating, enduring, slowed, or even suspended time. You have much to share about the how life and art are interwoven through cultural rituals.

Another one of you, who spent nearly ten years incarcerated, compares that time of isolation to the state of the current lockdown, sharing overlaps and divergences between how your creative process functions amidst the two experiences. Notably, you tell me how your past experience was formative in helping you strike a balance between interiority and exteriority. You describe how your experimentation was based in a curiosity that flourished as a way of surviving the suspended expanse of seemingly endless time, but how that was weighted against the need for outward self-expression and connection with others. It seems to me that that past experience has anchored your resolve to create far from the metronome of productivity often imposed by institutional structures in the arts (school, gallery, museum, etc). Being on a clock different than much of society for a period allowed you to find your own internal rhythm, which is perhaps one of the most important elements of a creative life lived well.

Thank you all for allowing me to share these lessons here. They feel so valuable as you consider how to structure your artistic practice amidst this moment of crisis and beyond, outside the parameters of the school semester or college exhibition. I hear you raise questions of how to extend newfound awareness beyond this time. To help consider that, I'd like to share some lessons I've taken from several artists and experiences with you.
Against Productivity

First, photographs of a performance.
Mladen Stilinović, Artist at Work, 1978.
Descriptive caption: A panel of eight black-and-white photographs depict a thin white man with long hair and a long mustache curled up with a blanket and pillow while lying prostrate across a bed. In four frames his back is turned to the camera; in another four frames he faces the camera. In three of the frames where he faces the camera, his eyes are closed and he appears to be sleeping. In the initial frame where he faces the camera, he stares dreamily off into space.

These are not images of a worker at a factory, or in a cubicle, or at an easel. The images could be interpreted as one of leisure (napping) or reproductive labor (nightly sleep). However, through the title, Artist at Work, the author asserts his act as one specifically of creative labor, thereby pointing to how murky the boundaries are between artistic labor and life. It also references how acts of artistic creation often require a tricky coaxing out—while sometimes the creative juices flow, sometimes they stop, lag, or stutter. Produced before the era of social media and Instagram influencers where sociality and labor intersect anew and we are expected to constantly perform our private lives publicly, these images and the originating performance take on new valences now.

At a Zagreb gallery in 1978, the Croatian Conceptual artist Mlladen Stilinović performed the influential and wryly humorous performance Artist at Work. His body of work, spanning from the 1970s until his death in 2016, addressed how ideological symbols, namely language, condition societies. Stilinović's critiques were often leveraged at contemporary global capitalism, Yugoslavian socialism, and the perceived dominance of Western art worlds over those of other regions, namely Eastern Europe. Before Stilinović passed away, I had the honor of working with him and his partner, the curator Branka Stipančić, on an exhibition of his artist's books at e-flux in New York.[3] While hosting them for several weeks at my home, I witnessed first-hand how well Stilinović, even without his often-attendant cigarette or cup of coffee, knew how to rest, daydream, and otherwise resist Western linear and capitalist time through the experience of daily life and artistic practice.Stilinović's well-known performance is frequently invoked in relation to how hard it is to measure—qualify and quantify—the act of artistic creation.

However, critical interpretations that merely focus on the tricky process of chasing the muse and omit Stilinović's central critique of how capitalism squashes creativity miss his point. In a later text piece, In Praise of Laziness, 1993, Stilinović begins by explaining how he learned from Socialism in the East and capitalism in the West at a time when there were clearer borders and distinctions between political systems. [4]At the core of his argument is that art cannot exist in the West anymore because would-be artists do not know how to be lazy there. At first this might seem no more than a tongue-and-cheek recuperation of racially-tinged critiques of "the other" that seem as old as time. But, for Stilinović, there are no artists in the West, rather producers of something too wrapped up in "matters of no importance" to be art itself. These matters are those of production and promotion in competitive museum and gallery systems. Before Stilinović investigates parallel thinking by fellow artists Marcel Duchamp (on indifference and non-work) and Kazimir Malevich (on capitalism's and socialism's detrimental effects on laziness), he first defines laziness:


Laziness is the absence of movement and thought, dumb time—total amnesia. It is also indifference, staring at nothing, non-activity, impotence. It is sheer stupidity, a time of pain, of futile concentration. Those virtues of laziness are important factors in art. Knowing about laziness is not enough, it must be practiced and perfected.[5]

Stilinović's artwork has had great influence on me. As a child of an immigrant who epitomizes how US-American bootstrap ideals can manifest in an "immigrant work ethic," my father and I would argue ad nauseam about the value and meaning of me hanging out with friends—you see, to my father, only lint gets to "hang out" on a shirt without purpose since all time is measured by productivity in capitalist societies. Boredom is bad. Furthermore, my father didn't know what to do with me as a chronically-ill budding artist-curator—when I wasn't "wasting" endless hours in bed sick, I was "wasting" all my other hours in my basement art studio. Which brings me to…

Maintenance and the Regenerative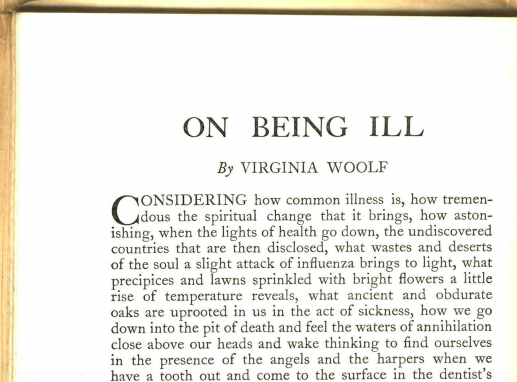 Descriptive caption: An excerpt of text by Virginia Woolf. A title at the top that is in all-capital letters reads: "ON BEING ILL." The passage starts, "Considering how common illness is…." The yellowed edges of the book the text is in appear at the top and left sides of the image frame.
Second, a passage of an essay.

Much of feminist poet and novelist Virginia Woolf's writing drew from her experiences with psychological and physical illnesses. I've previously written about her 1926 essay "On Being Ill" in a curatorial essay for my traveling exhibition on the politics of health, care, and disability, "Sick Time, Sleepy Time, Crip Time: Against Capitalism's Temporal Bullying":[6]

In her satire on conformity, Woolf found creative inspiration within illness and even valorized it as a state in which one can be unencumbered by normal responsibilities to the world and endowed with mystical knowledge. (Of course, that her class status allowed her to stay in her sickbed must be recognized.) As opposed to 'the army of the upright' which mill about 'with the heroism of the ant or the bee' and become titans of industry, the invalid has time. [7] Time to observe, to daydream, to be difficult and uncooperative.[8]

While Woolf writes about illness in a manner that solidifies Romantic era conceptions of invalidism as synonymous with nihilistic bohemian cool rather than fully depict its difficult realities, the writing is noteworthy for how it seems to have emerged less from a concern with representing her condition to readers than with simply using language to live through the daily machinations of her illnesses. Here art does not mirror life, it gives life.

Amidst the early days of the pandemic, I began to write several essays from a familiar place: my bed. In each of them, I include a paragraph nearly identical to this one. This experience was nothing new for me. Most people spend a good chunk of their life in bed. However, due to chronic illnesses that I've experienced since childhood, for me—like many people with disabilities—it is not just a private site for sleep, rest, reading, television watching, sex, care, and occasional recuperation, but necessarily a primary site of life's myriad activities. I often can't help but experience FOMO (fear of missing out) as I imagine the world outside marching on to a different beat without me. But I notice how this feeling has changed. With shelter-in-place and physical distancing mandates, so many others are staying inside and the world ceases to march on at its normal tempo. There's a new division, this one largely class-based: those who are deemed as non-essential workers and can afford to, are staying home with a potential excess of "free time"; those who help supply basic human needs or can't afford to not work are out on streets, in buses, and in vehicles making deliveries.

As I lay in bed, a whirlwind of noise generates as people scramble to get supplies, learn best practices to avoid, treat, or lessen the virus's spread, and how to cope with associated economic peril or other newfound effects of physical distancing. There is understanding that those with threatened immune systems—elderly, immune-deficient, and pregnant people—are most at risk. But so are people without health insurance, undocumented people, unhoused people or those facing housing precarity, incarcerated people and others living in crammed institutional spaces, health-care workers, teachers, the service industry, those whose work relies on crowds, those who live paycheck-to-paycheck, and the list goes on. Furthermore, the racial disparities of this disease are jarring. I must remind myself to breathe. A Netflix binge won't give relief, but maybe it will be good to feel numb.

As I alternately stare out my bedroom window at masked passerbys greeting each other at a distance and at posts on Facebook of children's science experiments performed in make-shift kitchen laboratories, home-made hand sanitizer next to home-made bread, and lives otherwise lived in quarantine, I think about how the collapse between public and private is felt now more than ever. I remember how Woolf goes on for pages in her circumnavigatory style, writing about the sky as seen through her bedroom window. Just as Stilinović's artwork was produced before the era of social media, Woolf's text was written well before the computer screen became the prevailing window onto the world. And boredom seemed more of an impossibility, or took on a different shape with endless media and stimulation that has become available via those screens.


Descriptive caption: A passage of slightly fuzzy type-written serif black text is on a grey background. The title in the upper-left corner reads "MAINENANCE ART" and the author credited in the upper-right hand corner is "Mierle Laderman Ukeles." The passage begins: "C. Maintenance is a drag; it takes all the fucking time (lit.)"
Third, a passage of a manifesto.

"The sourball of every revolution: after the revolution, who's going to pick up the garbage on Monday morning?"[9] In 1969, feminist artist Mierle Laderman Ukeles wrote this in her famous four-page long "Manifesto for Maintenance Art ." In it she put the seemingly tedious and repetitive maintenance (or its corollary care) in opposition to the sexier forward-looking focus on development in avant-garde and industrial production that was a prevailing mode of creation at the time.

Outside of this manifesto (also an exhibition proposal) which has many lessons for us now on the value of the regenerative, Laderman Ukeles is perhaps most well-known for her longtime Artist-in-Residence role at the New York City Department of Sanitation in which social reproduction became a realm for artistic action. One action performed in the Artist-in-Residence role she created in 1977 was "Touch Sanitation," 1979-80. Over nearly a year's time, Laderman Ukeles met with eighty-five hundred sanitation workers across New York City and shook every one of their hands while thanking each for their service. Notably, the performance highlighted the undervalued labor of these "san men" by using her relatively privileged position as an artist to do so. "Touch Sanitation" now takes on new resonance at a time when newly-minted "essential workers" such as grocery store clerks, Amazon warehouse workers, and nurses are protesting poor pay and lack of protective gear while simultaneously being given lip service for being heroes that keep societies afloat.

In an interview , Laderman Ukeles reflected on how, right before penning her manifesto, she was making giant inflatable sculptures that could quickly be tucked away with little planning, linking that choice to how balancing the demands of being a mother and artist left her too spent to exert much care.[10] But the sculptures didn't work. They melted. They cracked. The elements of the world inevitably came in and required her to rethink. Enter maintenance work. This is where she departed from the supposedly autonomous white males who had been her art heroes in how they lifted processes of production out of the culture they came from.[11]As she said, "maintenance is trying to listen to the hum of living. A feeling of being alive, breath to breath….And I know that that has to be a part of culture."[12]

Both Woolf and Laderman Ukeles make creative work that is based in their life's conditions and honor rather than resist the inherent nature of materials and processes used. The lesson we can take from the inflatable sculptures that Laderman Ukeles made early on in her career is that care is not an inconvenient disruption, rather an essential counterpart to any form of growth. The regenerative we are experiencing perhaps more than ever at this moment is a necessity.


Tear Down that Monument to ensuing Productivity

Cover of the April 2020 issue of Artforum. Design utilizes John Baldessari's This Is Not to Be Looked At, 1966–68.


Descriptive Caption: Washed-out red all-capitalized letters in the top left read: "ARTFORUM" Underneath are tiny letters that read "APRIL 2020" and "INTERNATIONAL." There is a slightly grey rectangle running down the middle of the page. The lower half is filled with black letters that read "THIS IS NOT TO BE LOOKED AT." Filling the top half is a black-and-white image of a magazine issue with text that reads "ARTFORUM" and barely legible is the date "November 1966." Within is graphic artwork that contains a rectangle atop a larger pentagon. They are both styled to appear beveled.

Fourth, excerpts from the April 2020 issue of Artforum magazine.

As US society moves both online and deeper into households and neighborhoods, there is a scramble to find ways of coping with all that is unfolding. Some offer small impromptu gestures, such as the message of hope, resilience, and collective healing that comes from an Italian city as neighbors sing together in lockdown from their balconies. Others are very institutional, witnessed in various arts organizations' scramble to move previously scheduled in-person exhibitions and events online while developing new programs specifically for online spaces. This is presumably both economic, to validate these organization's existence in order to ensure continued funding for their ongoing survival, as well as in the belief that art can help people process or find meaning in difficult times. Many include engaging art and culture in new arenas. As programs move online there is a shifting stratification of access—for example, some people do not have internet and, if they do, website infrastructures are not always accessible for people with disabilities.[13]

I am familiar with finding community and working online having been a nomadic freelance art curator moving across the globe who has also been part of disability art communities. In addition to witnessing a newfound recognition of lessons from early internet art, there is a broad appreciation for artwork that emphasizes interdependence and support, such as artists in Detroit working in mutual aid, ancestral healing, and Afro-futurism. I also relish watching the wisdom that they and elders from disability justice communities rise to circulate with now-broader audiences lessons on collective care and cultivating community amidst social isolation—this is nothing new for disabled people. At the core of disability justice is leaving no one behind.

While working on a mutual aid campaign for chronically ill and disabled people during times of COVID-19, an artist friend brings to my attention the framing for the newest issue of Artforum by the magazine's Editor-in-Chief David Velasco. I have difficulty searching for the marketing email so, based on my friend's critiques, I input the search terms "ARTFORUM" and "PRODUCTIVITY." There it appears! A monument to ensuing productivity amidst global crisis and illness.

This issue was in the works prior to lockdown where Artforum's headquarters are in New York and features the artists John Baldessari and Moyra Davey, amongst others. Baldessari died early this year after a long career and Davey's retrospective was postponed at the Museum of Modern Art in New York due to the unfolding pandemic. In the email about the issue, Velasco pulls out a quote from artist Ashley Bickerton's tribute to Baldessari, "Meg told me that John felt that being laid up was no excuse for not making art. I could only think that a bedridden John would still be far more productive than I am, even on my best day."[14] Following this, Velasco highlights how, when writing on Davey, critic Kaelen Wilson-Goldie "attends to the quietly explosive work of a master who for decades has made her home a center of productivity."[15]

So, beyond the reasons Stilinović articulated against productivity, why am I so turned off by this framing that emphasizes the ability of sick, aging, or isolated artists to "stay productive" and therefore relevant? To begin with, we can turn to the reasons articulated by many others who, via articles and Facebook posts, have been arguing against calls for productivity during the pandemic.[16] First off, it has been largely recognized that the notion we can all use the lockdown to get so much done is grounded in numerous faulty assumptions. These include assuming that: a person can self-isolate at home and isn't going out to work; a person is not crammed into tight living quarters, potentially with other intolerable or even abusive people; that most of a person's "free time" is not consumed by worrying about how they'll get groceries, medicine, or if their family is safe; a person isn't facing fear of deportation or eviction; that they aren't sick themselves; that aren't caretaking or dealing with being laid off; etc.

Even then, some of the emotional hurdles a global pandemic produces—sadness, anxiety, fear, rage, grief, depression, burnout—are not conducive to either immediate creative thought or efficient labor. Boredom canbe a perceived lack that actually compels one to new creative expressions, but it can also be interchangeable with numbness that is a trauma response. Furthermore, the demand to be productive at all times syncs too closely with rising hustle or optimized-self culture under contemporary neoliberal capitalism. For example, while this pandemic has allowed more flexibility for employees to work from home than ever before, the rise of surveillance via tracking software to ensure continued productivity does not bode well for the future of work.[17]

But might the need for a sense of productivity merely be a personal coping mechanism to help maintain one's mental health in times of extreme uncertainty? Because, maybe if we keep ourselves busy, then the impact of the crisis will not overwhelm and consume us. Foundational self-care is necessary at this time and, for some of us, anxiety and uncertainty get best channeled into action. This comes with the caveat that a sense of regularity and routines can be grounding for mental health or creative practice, but busywork imposed externally is not.

I'd be remiss if I didn't highlight how being "against productivity" as an artist or arts practitioner comes with its own set of concerns. Artists might ask themselves, considering that William Shakespeare produced King Learduring a plague, why shouldn't I expect myself to make something as impactful during this pandemic?[18] For artists, the calls to productivity assume that one either has access to materials and spaces they'd normally work with or are not so traumatized by issues already listed that they'd be able to meet the challenge of translating their ongoing practice to new forms and/or addressing the current moment via artwork.

Beyond this, artistic processes of creation vary widely so, even if it were desired, there could never be a measure of progress that is a direct parallel to the aforementioned tracking software used to measure employees working online. Editor Mason Currie's book Daily Rituals: How Artists Work gives many examples illustrating this diversity of artistic processes. [19] Whenever I leave an art residency, I often gift this book to them. It is a light read or, as I like to say, a "bathroom book" that you pick up in small doses. It addresses the different ways that creative practitioners have, over time, facilitated their work by drawing from interviews and texts by one hundred and sixty-one visual artists, composers, musicians, dancers, novelists, poets, playwrights, painters, philosophers, scientists, and mathematicians, and more. Tactics and routines span from those that are incredibly disciplined and Puritanical to those that are debaucherous or superstitious. For example, the selections detail common-place patterns including drinking vast quantities of coffee and smoking cigarettes, taking long daily walks and frequent baths, inspiration by masturbation, and more. It also shares more idiosyncratic and custom rituals.[20]

Many narratives around this pandemic pose a false binary between economic and human health. To be clear, I am arguing against senses of productivity that act to uphold systems that value profit above supporting everyone's creativity and overall wellbeing. This means competitive, capitalist, individualistic, white-supremacist colonial structures in art and in society. I could write a whole series of lectures on the tricky nature of artistic labor as a "labor of love," which often means that artists are poorly remunerated and expected to work endlessly. Rather than toil with the hope of being one of the few to become an "art star" atop a faulted system, this moment can teach us all the importance of working together to build a sustainable practice in equitable creative economies.

There's No New Normal

Mural at unknown location with quote from poet and activist Sonya Renee Taylor.


Descriptive caption: View onto a long white brick wall with grey trim at a street corner. On the wall is a block of all-capitalized black text. The text reads: "We will not go back to normal. Normal never was. Our pre-Corona existence was not normal other than we normalized greed, inequity, exhaustion, depletion, extraction…We should not long to return, my friends. We are being given the opportunity to stitch a new garment. One that fits all of humanity and nature."

Fifth, a quote that went viral.



Now that I've put this widespread emphasis on self-discipline in conversation with Stilinović's thinking for laziness or even boredom and how Laderman Ukeles and Woolf emphasize art that is necessarily deeply rooted in one's lived conditions, I'd like us to close by considering the calls at this moment to clog the wheels of capitalism and refusal to uphold a sense of normalcy coming from public intellectuals, artists, activists, and others. Specifically, for the impact this may have on current and future modes of creative work. Embracing uncertainty must be a part of this. As science fiction writer Octavia Butler said in an epigraph in The Parable of the Sower: "All that you touch you Change. All that you Change changes you. The only lasting truth is Change."[21]



As many suffer in a variety of ways, some like poet and activist Sonya Renee Taylor, author of The Body is Not an Apology: The Power of Radical Self-Love, imagine that this moment is a rupture that will require societies to dramatically reform to be more equitable.[22] Others like political theorist Naomi Klein, author of The Shock Doctrine: The Rise of Disaster Capitalism, caution that power often profits from collective disorientation during times of disaster.[23] It is with these lenses that I watch the actions of various artists and arts organizations online. I look for signs as to whether they will allow this experience to radically change them or they merely long for a return to a previous "normal" in which their comfortable positions of power and existing understandings of the world will be upheld.



While I am arguing against measures of productivity being imposed on us at this moment of uncertainty, I am for finding meaning and surviving through practices of art. You may be asking yourself, "Hm, doesn't the fact that you penned this essay amidst illness and crisis go against the argument you are making that we need not feel compelled to produce right now?" For me, writing this essay to you is one thing that helped me survive. Also, this thinking comes from a long personal history of working with artists and communities on these issues.



The different approaches and timing to making artwork in the wake of collective trauma is a whole other essay/lecture. But, do you imagine that Spanish painter Pablo Picasso was motivated by measures of productivity when he made his famous painting Guernica, 1937 in response to egregious acts of war? Sure, he made it in around just three weeks, but not everyone can metabolize atrocities similarly nor should they. Questions of timing, in creation and public readiness, are essential. For example, take artist Paul Chan's project in which he collaborated with community groups to stage a production of Irish playwright Samuel Beckett's "Waiting for Godot" in 2007 in the badly damaged Gentilly and Lower Ninth Ward neighborhoods of New Orleans post-Katrina.[24] Some argued that, in the wake of devastation, what was needed was medical supplies, food, and housing, not art made with actors and artists from elsewhere. In response to ongoing crises, consider Heidelberg Project, a site-specific out-door installation on Detroit's East Side that created by artist Tyree Guyton in response to disinvestment and systemic racism felt by his community. In her forward to the catalog for Guyton's retrospective at The Museum of Contemporary Art Detroit (MOCAD), Museum Director Elysia Borowy-Reeder explained: "Since 1986, the project was conceptualized as medicine for Detroit's East Side community following the 1967 rebellion."[25]



While recognizing the magnitude of this time in its potential for reformation and how it revels longstanding neglect and oppression, we need not feel rushed to fully comprehend or respond immediately. We can incubate and deepen our creative practices and use them to be curious about what is possible. For me, art is best when it is not reactive but responsive. We will be dealing with this time for years to come. Art that shows us how to pivot, or how to expand into what we are longing for versus contracting into what we think we know is what this world needs.



In closing, this moment reveals the "sticky-slippery time" that actually structures all artistic processes.[26] For you, as opposed to student-artists in past classes at CCS, there will be no clean culmination. This highlights the reality that whether we are in school or in the studio or in community, we are forever learning. You've already accomplished so much. As artists and creative beings, we are always already becoming.