Born in Detroit, Grant Czuj continually draws from his ties with the American working class culture in his practice. He will hold a BFA in Fine Art from the College for Creative Studies in May of 2020, and will go on to pursue an MFA at Yale University in Painting and Printmaking. He is the winner of the 2019 Imre J. Molnar Artistic Achievement Award, the DeSalle Scholarship and the James Banton Endowment Scholarship among others. At seventeen yeas old, Grant had been sentenced to the Michigan Department of Corrections to a term of incarceration that had lasted nine and a half years. During his incarceration, he had routinely exhibited and published with the University of Michigan's Prison Creative Arts Project, publishing fiction and poetry in the PCAP annual Michigan Review of Prisoner Creative Writing, and exhibiting at the Annual Exhibit of Art by Michigan Prisoners at the University of Michigan's Duderstadt Gallery. In 2017, he had his first solo exhibition, Mind Maps, at Galarie Camille in Detroit, Michigan. In 2020, he will have his second solo exhibition, Growth in an Hourglass, at M Contemporary Art in Ferndale, Michigan.
Vagabond:03, 94" x 78" x 10", Cotton, polyester, wool, push pins, ink, latex paint, 2019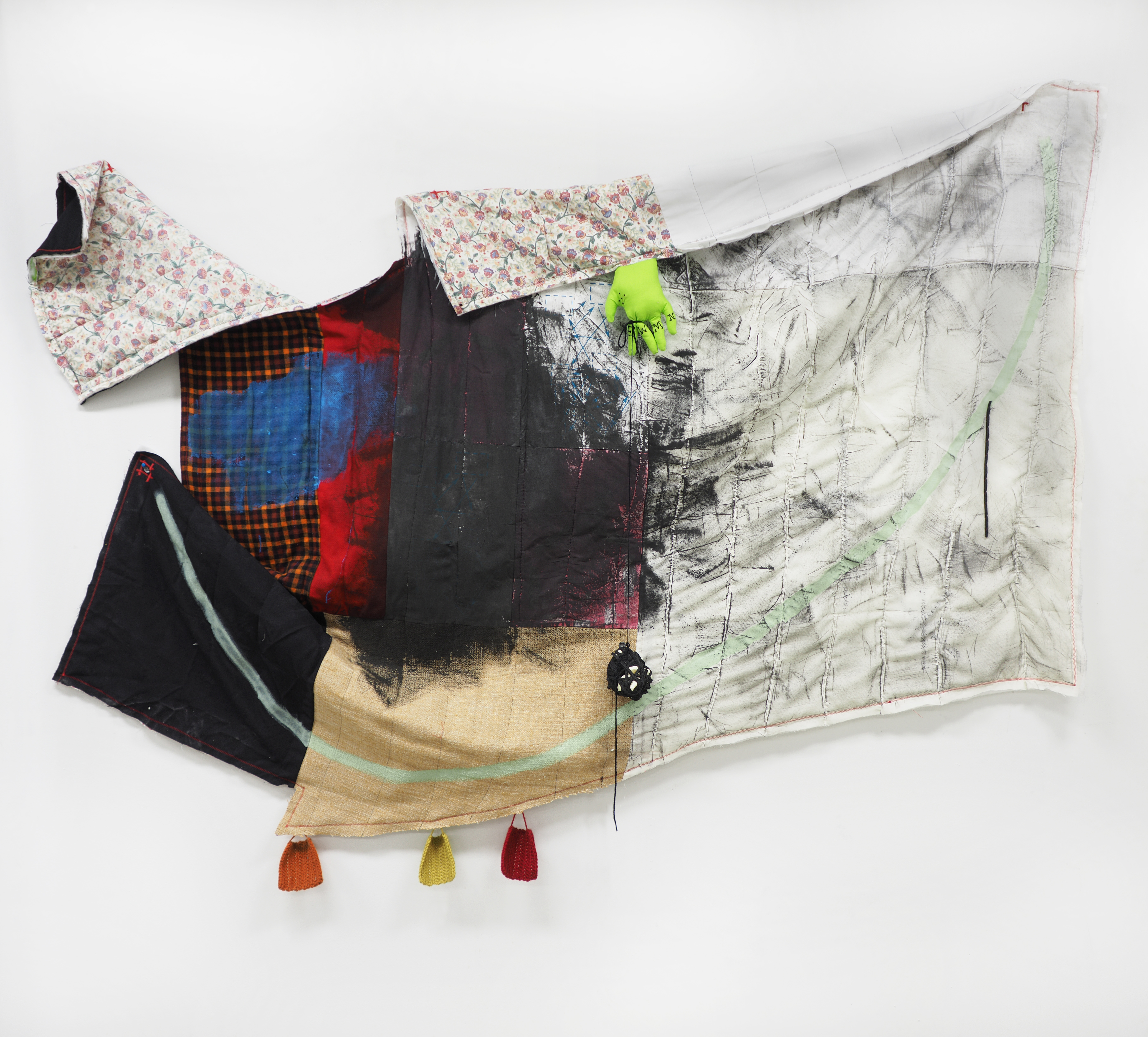 Vagabond:02, 80" x 60" x 6", Cotton, polyester, wool, foam, latex paint, 2019
Vagabond:01, 80" x 66" x 6", Cotton, polyester, nylon, ink, latex paint, 2019
Vagabond:04, 73" x 57" x 14", Cotton, polyester, vinyl, pvc fabric, wool, wire, push pins, ink, latex paint, 2019
Hang, 2019, 93" x 42" x 16", Polyester, nylon, faux fur, foam, paper, ink, clothes pins, latex paint, 2019
Loner, 45" x 45" x 60", Cotton, polyester, wool, pvc fabric, foam, dye, ink, acrylic nails, glass beads, pom pom, latex paint, dog toy squeaker, 2019
Vagabond:05, 72" x 54" x 6", Cotton, polyester, wool, foam, sponge, push pins, latex paint, 2019
Diseases of the Mouth for Physicians, Dentists, Medical and Dental Students, by Prof. Dr. F. Zinsser, Translated and Edited by John Bethune Stein, M.D., approx. 84" x 60" x 3", Cotton, polyester, wool, wood, push pins, sublimation ink, latex paint, 2019
Vagabond:06, 57" x 49" x 4", Cotton, polyester, wool, paper, foam, latex paint, 2019
In my work I translate intuitional play into an analysis of materiality and collaboration. I collect material from the cultural milieu I exist within by purchase, adoption, and fabrication. My aim is to collaborate with these materials in a process of creative freedom. I use this freedom in play aesthetically, finding the aesthetic space to be the last truly free landscape. This space which has allowed the creation of models such as Surrealism and Conceptual Art holds loosely administered values which when used, act well as materials themselves rather than policies to work from. Materials hold complex written histories of biopolitical structures that are unavoidable in an analysis. I also, upon an analysis of my own complex written history, hold an unavoidable make-up of biopolitical structures. These biopolitical structures are those of our societal and cultural values of order. These orders are tolerated as populations are dependent on the production of policies, objects and materials for livelihood and security. Looking through this lens, I find camaraderie in material, and the collaboration that unfolds I feel to be a true and faithful one. The material motivates and informs an analysis in assembling itself by embodied collaboration in a free space. This new and free human analysis plows fertile ground for a new narrative. This collaborative analysis can articulate a new model, and perhaps a change in the destructive dependency within social and biopoitical control.